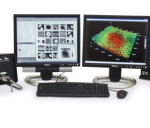 The Atomic Force Microscope (AFM), has been the instrument of choice for three dimensional measurements at the nanometer scale. With the MFP-3D Stand Alone (MFP-3D-SA) AFM, scientists can now choose a sensitive and precise AFM with the lowest noise performance that also includes a complete scientific software environment. The MFP-3D-SA is ideal for many applications including physics, material science, polymers, chemistry, nanolithography, bioscience, and quantitative nanoscale measurements. The MFP-3D has the flexibility to acquire your data, analyze it, and even make publicationready graphics. Your imagination is your only limit.
Specifications:
MFP 3D AFM stand alone 
scan range XY:> 90 μm
closed-loop position control with sensor noise < 1 nm (sensor non-linearity < 0,5 % at full scan)
Z range:> 15 microns, sensor noise <0.4 nm in a 10 kHz BW
operating modes: Contact, Non-Contact AC, Intermittent Contact (Q-Control, Phase, Amplitude), Force Mode, Force Volume, Lateral Force, Nanolithography, MFM and EFM
Cantilever holder for operation in air and liquid environment (open configuration)
Built-in cantilever force calibration capability based on thermal noise spectroscopy
Top View Optics Base 
Base for MFP-3D stand alone AFM including micrometer driven flat-travel slide stage for sample positioning and top-down optical access to tip and sample.
PFM – Piezo Force Module with the following items 
HVA 220 High Voltage Amplifier
HV cantilever holder
HV sample holder
70 Electri-Lever
Active Vibration Isolation 
Isolation: dynamic 0.6 Hz to 100 kHz
Absorption: above 5 Hz:> 25 dB, above 10 Hz:> 40 dB Acoustic Enclosure
Enclosure designed for ultra-sensitive equipment, such as AFMs
Up to 40 dB of acoustic isolation
---
---
Copyright © 2022 National Institute of Materials Physics. All Rights Reserved