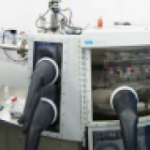 Preparation of  :
Pure and doped organic thin films;
Metallic thin films;
Organic heterostructures.
Main technical characteristics :  
Film thickness uniformity for both metals and organics better than +/-5% across the 100 mm square substrate;
host/dopant ratio control up to 100-1 with an accuracy of 0.01nm/sec.
Fields of utilisation : Organic solar cells; OLED; organic TFT; organic sensors.
---
---
Copyright © 2022 National Institute of Materials Physics. All Rights Reserved