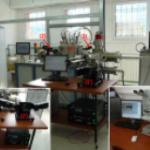 (1) Deposition chamber:
Confocal sputtering chamber 2 off 2kW, 800 Volt DC Power supplies for sputtering 1 off 600 watt, 13.56Mhz RF sputter power supply 1 off 300 watt, 13.56Mhz RF sputter power supply for wafer Bias
Hot stage for 150 mm wafers to 850 °C; Film uniformity +/-5%; Repeatability <2%. Sputter chamber Load Lock: Infra red wafer degas system 1000 watts.
(2 )Ellipsometer M-2000V (W3-03-U-XE): 
The M-2000 for in-situ monitoring and process control. Spectral range: 370 – 1000 nm (390 wavelengths), for dielectrics, organics, and amorphous semiconductors.
(3) Auger and LEED system:
(UHV vacuum, 1 x 10-10 torr, analysis chamber) LEED Auger Load Lock (for independent LEED operation) Vacuum gauging to 5 x 10-9 torr
Software Control software GammaSoft full SCADA control.
Step profiler :
Scan length: 30mm;
Maximum Z range: 1.2mm;
Height equivalent noise: 0.38Å;
Step height repeatability: 5Å 1σ,10 measurements on 1.0μm step or 0.1%;
Minimum resolution step: 10Å;
Stage translation: 20mm X 80mm;
Sample stage diameter: 140mm;
Stylus force: 0.03mg – 10mg;
Camera zoom: 100X.
---
---
Copyright © 2022 National Institute of Materials Physics. All Rights Reserved