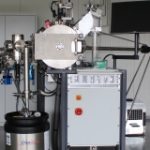 Designed for complex nanocomposite synthesis by MAPLE technique, using both inorganic and polymeric material or biomaterials with tailored properties.
TECHNICAL SPECIFICATIONS
Contains a carousel with 3 MAPLE targets cooled with liquid nitrogen, at a temperature of 100 K max.;
Automatic temperature and fluency control;
The substrate may be heated either during deposition or post-deposition,
at a temperature of at least 800 °C, independent from the cooled targets;
Laser beam can scan targets over a range of at least 30 mm;
MAPLE targets can be manufactured also in-situ, by injection and freezing directly on the support from where it would be further sprayed.
---
---
Copyright © 2022 National Institute of Materials Physics. All Rights Reserved