XPS photoelectron spectroscopy unit with facilities for treatment of samples at high pressure and temperature
FACILITIES / SURFACE-SCIENCE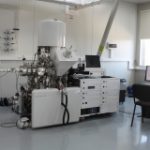 XPS photoelectron spectroscopy unit, with facilities for the treatment of samples at high pressure and temperature, is designed for necessary materials characterization research by photoelectron spectroscopy, after treatments in conditions resembling those found in industrial plants.
TECHNICAL SPECIFICATIONS
The XPS equipment includes an airlock connected with high-pressure cell;
X-ray source: Al K alpha / alpha monochromatized L Ag single crystal using a focus with the spot size of 0.7 mm, AlK alpha spectral resolution (1.2) 0.2 eV;
Electron analyzer: hemispherical analyzer with a reference intensity of over 50,000 counts per second (cps) with a maximum spectral resolution of 0.7 eV, standard line of Ag 3d5 / 2 Ag metal or C 1s on the chart;
Sample treatment at high pressures and temperatures (treatment at maximum pressures of 5 bar, and at temperatures up to 300 oC and at a pressure of max. 1 bar in conditions of temperature up to 1000 °C );
Microscopic system with CCD camera for monitoring the position of the sample;
Sample cleaning ion source, voltage 2 kV, the current 1mA;
Vacuum limit: 5 x 10-10 mbar;
Possibility to heat / cool the sample in the analysis chamber in (- 100 °C, 500 °C).
---
---
Copyright © 2023 National Institute of Materials Physics. All Rights Reserved