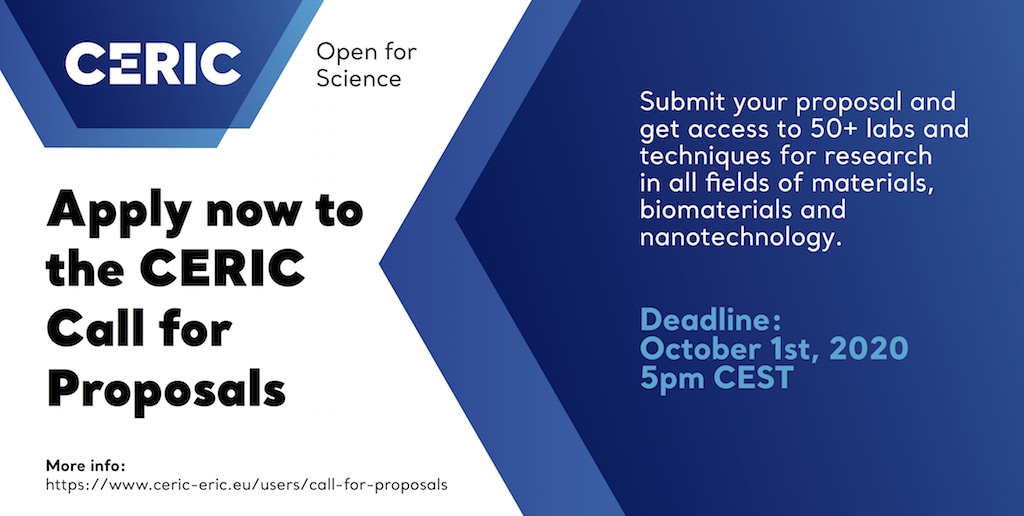 The Central European Research Infrastructure Consortium, CERIC-ERIC
http://ceric-eric.eu/ is calling for proposals for coordinated access
to more than 50 instruments and support laboratories. In addition to the
possibility to access several instruments through a single
application, we offer support for mobility and awards for high quality
open access publications.
To apply, use the link "Submit a new CERIC proposal" in the VUO
(https://vuo.elettra.trieste.it/).
Exceptionally, for the current Call for Proposal a single deadline for the submission of the proposals is available on October 1st 2020 at 17:00 CET
What is new in this call?
From this call, the Ultraviolet Laser Facility of the Foundation for
Research and Technology " Hellas (ULF-FORTH) in Greece and the X-ray
Absorption Spectroscopy beamline*LISA@ESRF *will**offer access through
CERIC.
Due to the COVID-19 emergency and according to the local evolution of
the pandemic, some of the CERIC facilities may propose to perform
measurements remotely, through sample mailing. It will be possible to
express your availability for remote measurements in the proposal
submission form.
If you are a researcher working in Albania, Belarus, Bosnia &
Herzegovina, Bulgaria, Estonia, Former Yugoslav Republic of Macedonia,
Latvia, Lithuania, Montenegro, Moldova, Romania, Russia, Serbia,
Slovakia or Ukraine,* apply for promotional open access*: in the frame
of the European project ACCELERATE, *personalized support for proposal
preparation, measurements and data analysis can be provided upon
request*.
For further information about the call, please visit our website
https://www.ceric-eric.eu/users/call-for-proposals/
Remember you can also apply anytime for the dedicated COVID-19 Fast
Track Access
https://www.ceric-eric.eu/users/open-access/#anchor-2 and fast track
for feasibility studies, for the use of the available instruments.