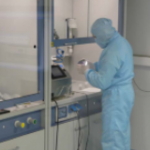 A brand new Cleanroom has been set up at the National Institute of Materials Physics for processing and characterization of samples of nanostructured materials and devices.
The cleanroom is fitted with equipments and installations which allow for preparation and fabrication of materials samples, structures and devices with a certain functionality (for example sensors, integrated circuits). These structures have features of the order of a
few microns (10-6 m) or even less, of the order of a few nanometers (10-9 m).
This preparation facility is intended in principal to provide technological support fhe RDI activity within the laboratories and research groups of the National Institute of Materials Physics, activity focused on:
Study and development of new nanostructured and microstructured materials
Preparation of materials samples
Study, development and testing of new micro and nanotechnologies
Development and fabrication of prototypes of new devices as a result of application of R&D results, aiming for the transferring the new developed technologies.
In condtions of minimum particle contamination, the cleanroom is fitted with the infrastructure for:
 Preparation of material samples and precursors;
 Preparation of samples of nanomaterials
 Sample processing
 Optical lithography and nanolithography;
 Preliminary characterization of samples; ƒ Fabrication of prototype devices
Measurements and preliminary characterization of electrical and/or optical properties of devices;
Infrastructure for preparation and processing of samples of nanomaterials at the INCDFM comprised a completely refurbishing of an area of about 110 m2 and setting up a cleanroom of about 50 m2 at the standards of class 1000 and a section of 15 m2
at the standards of class100 for photolithography. It is realized also a "grey area", a technical service corridor, class 10,000 for storing of chemicals and gas cylinders, for vacuum equipments and for deionized (DI) water purifier/generator.
(Actual) Cleanroom Equipment: 
Wet Etch cabinets (2), for acids and bases/solvents
Photolithography cabinet with PC-controlled Spinner and Hot plates
Mask Aligner EVG 620 NT with NIL
SEM Hitachi S3400 with Raith EBL and Laser Interferometer positioning stage Raith
SEM Tescan with FIB Brucker and characterization capabilities (EBD, EBSD)
Thin Film Deposition Bestec No.1, for MEMS and CMOS compatible materials (thermal evaporation and e-Beam assisted)
Thin Film Deposition Bestec No.2, for potentially contaminating materials (thermal evaporation and e-Beam assisted)
---
---
Copyright © 2023 National Institute of Materials Physics. All Rights Reserved