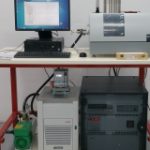 The system for measuring the thermoelectric properties is designed to measure properties at high temperatures in order to characterize materials used in extreme conditions. There are taken into account materials for energy conversion or other applications where detrimental thermoelectric effects can occur.
TECHNICAL SPECIFICATIONS
Allows characterizing materials both as bulk and thin films or coatings;
Allows investigations in vacuum, neutral atmosphere, reducing or oxidizing atmosphere;
Allows measurements on samples with different shapes and sizes without using additional connecting elements;
Allows measurements in the range of RT-800 oC, with different rates of temperature change;
Allows Seebeck measurements with alternative heating, by 2 heaters;
The equipment is fully automated and controlled by a computer that allows the scheduling and the recording of required
measurements.
---
---
Copyright © 2023 National Institute of Materials Physics. All Rights Reserved