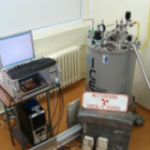 Useful instrument to study the unresolved hyperfine interactions (static or dynamic –magnetic, electric interactions in solid samples), owing to the possibility to apply a stationary magnetic field up to 6T at ultra –low temperatures.
The system consists in two main parts:
– ICEoxford (England) cryogenic low temperature superconducting magnet system for Mössbauer measurements,
– WissEL (Germany) Mössbauer spectrometer
WissEl Mössbauer spectrometer with ICEoxford cryomagnetic system
Cryogenic low temperature superconducting magnet system for Mössbauer measurements provide a magnetic field at the sample up to 6 Tesla with vertical field direction (perpendicular on gamma rays direction) and a homogeneity of the magnetic field better than +/-1% in a 10 mm dsv.
The sample temperature can be varied in the range of 1.4 to 300K. The system includes temperature controller, superconducting power supply, pump and lines for operating the temperature insert, helium level meter, helium storage vessel, turbo molecular pump.
The Mössbauer spectrometer (WissEl- Germany) consists in two components: an electromechanic system which create the conditions for the resonant absorption of gamma rays in the sample and the system for the detection and acquisition of gamma rays, emitted by
the radioactive source, after crossing the sample under study.

The first component contains the velocity transducer and the drive unit and moves the radioactive source with velocity up to ±300 mm/s with linearity better than 0.15 % up to ± 100 mm/s. In constant acceleration mode, the velocity waveforms SINE or TRIANGLE can be optionally selected.
The second component, for the detection and data acquisition is a NIM standard and contains the following devices: proportional counter, preamplifier and amplifier, high-voltage supply, NIM BIN with power supply and MCS/PHA card for data acquisition.

Many kinds of investigations, scientific or technological ones, can be performed with this equipment, from alloys and catalytic compounds to complex systems of biomedical interest.
---
---
Copyright © 2023 National Institute of Materials Physics. All Rights Reserved