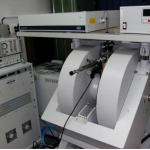 Operating parameters: 
Microwave frequency range: 9.2- 9.9 GHz (CW mode)
RF range and power (for ENDOR measurements): 100kHz – 250 MHz; 150W
Magnetic field range: 0.03 to 1.45 T
Sensitivity (CW mode): 1.2 x 109 spins/Gauss
Pulse resolution: 1nsec
Microwave peak power (Pulse mode only): max. 1kW
Temperature: 3.8 – 300 K
Available experiments: 
CW X-band ESR measurements at various microwave powers and magnetic field sweeping ranges.
Fourier Transform and electron spin relaxation time measurements by Electron Spin Echo
(ESE) and Free Induction Decay (FID) techniques.
ESEEM and 2D-HYSCORE measurements.
SECSY and EXSY measurements of the correlations and exchange rates.
Pulse ENDOR (Electron Nuclear DOuble Resonance) experiments to measure the hyperfine interaction between nuclear spins and paramagnetic electrons.
Pulse ELDOR (Electron Double Resonance) and DEER experiments to measure long range distances by electron-electron spin dipolar coupling.
---
---
Copyright © 2022 National Institute of Materials Physics. All Rights Reserved