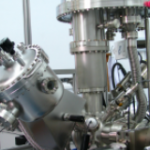 CHARACTERIZATION METHODS 
X-ray Photoelectron Spectroscopy (XPS) – a spectroscopic technique based on photoelectric effect that measures the elemental composition, valence state and electronic state of the elements that exist within a material
Auger Electron Spectroscopy (AES) – an analytical technique based on Auger effect used for chemical characterization of surfaces and bulk materials
Scanning Tunneling Microscopy (STM) – a characterization technique based on quantum tunneling effect used for surface imaging at atomic resolution
EXPECTABLE OBTAINED DATA FROM XPS, AES and STM MEASUREMENTS 
Elements and the quantity of those elements that are present within ~10 nm from the sample surface.
Contamination from the surface or the bulk of the sample
Empirical formula of materials
Chemical state identification of elements (valence state, oxidation state)
Binding energy (BE) of electronic states
Thickness of thin layers (1–8 nm) of different materials on the surface
Density of electronic states
Depth compositional profile
Surfaces morphology at the atomic level
PERFORMANCES 
Detects all chemical elements except hydrogen and helium
Detection limits for most of the elements are in the parts per thousand range (1-3 ‰)
High surface sensitivity since the electrons come from the first 10-20 layers of the surface
High surface imaging resolution in STM technique: 0.2 Å
Nondestructive analysis of materials: metals, alloys, ceramics and most glasses are not
measurably degraded by X-rays. Polymers, catalysts, certain highly oxygenated
compounds, various inorganic compounds and fine organics are low degraded by either
monochromatic or non-monochromatic X-ray sources.
APPLICATIONS 
Materials and surfaces science
Microelectronics
Etching and corrosion processes (oxidation states of elements, chemical changes in surface
composition, depth profiling)
Heterogeneous catalysis (chemical species identification, chemical states of active species,
chemical changes during reaction)
Ascertainment of: the elemental composition, the chemical and electronic state of the
elements existing on surface, the atomic composition on surface
Control of the concentration of heavy metals or of the other pollutants in sediments and soil
---
---
Copyright © 2023 National Institute of Materials Physics. All Rights Reserved